Do you yearn to be more creative and want to have fun whilst learning?
The Wyllie Fox has an amazing painting den, tucked away on the river Dart near to Dartmouth on the vintage motor sailor, 'Lady Francesca'. Moored alongside Old Mill Creek with walk on access from the quay wall. Tuition can take place on board or the boat can be used as a base.
There are some fabulous painting and sketching spots within spitting distance of the boat. The Old Mill with it's stone bridge, boats moored on the river, the resident swans and their signets, or the remains of a pleasure walk along the creek with it's Victorian folly and waterfall…
Francesca Wyllie (aka The Wyllie Fox), is a very experienced tutor and has led many workshops with groups and one-to-one classes. She has taught for many years in the following fields:
Sketching
Watercolours
Painting in Oils and Acrylics
Painting en Plein Air (out on location and weather dependant!)
Digital Painting using the ArtRage App
Life Drawing
To book a course please use the contact form stating your preferred date and which course you would be interested in. Francesca will then contact you directly to discuss your requirements. Your course will be booked on receipt of the full fee and payment instructions will be sent by email.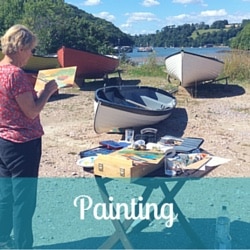 Art Tuition Fees:
Painting tuition starts at £30 per hour per person and includes materials and refreshments. Courses are a minimum of 2 hours and are normally held on weekends.
There will be a discount applied for group bookings fees of over 2 people of 20% and of 50% for over 4 people.
Sketching – you will receive a free sketchbook and pencils and refreshments – cost £30 per hour Digital Painting – You may need to pre-install the Artrage app on an IPad or tablet prior to the workshop. Francesca can guide you with this. The apps is normally sold for under £5. Workshops are charged at £30 per hour Watercolours, Oils and Acrylics painting including Plein Air painting in the near vicinity will be £35 per hour and will include one board or watercolour sheet, plus use of materials and brushes. You are also welcome to bring your own materials too. Life Drawing for groups with a minimum of 6 people. Price on application and this won't be on held on the boat!
Other venues:
Do you require a workshop to be held in a specific location or in your own home? This can all be arranged but may involve extra fees to cover travel time and fuel costs.
Francesca loves to paint on location and has held many painting and Ipad painting workshops in and around the area of the South Hams and Torbay, such as Coleton Fishacre, Torre Abbey, Cockington, Agatha Christy's Greenway and locations around the river Dart.
*Unfortunately the vessel "Lady Francesca" is not wheelchair friendly and may not be accessible for someone with mobility issues. The Wyllie Fox will try her best to look for the most suitable venue for you and does not wish to place any barriers to you unleashing your creative potential. Should you wish her to travel to you this can be a good solution.
Sometimes stuff happens and life gets in the way. You can cancel your booking up to two weeks before your course and can contact Francesca to discuss an alternative date. Should this not be possible or a suitable date not be available you will receive a full refund. However, no refunds will be given for cancellations made less than 2 weeks before the date of the workshop or in the event of a no-show.
In the event of the course being cancelled due to bad weather or should the Artist find herself ill in bed, (this rarely happens as she is quite hardy), you will be refunded in full or an agreed alternative date will be given.