Francesca Wyllie (The Wyllie Fox) paints Landscape Paintings, Marine Scenes, Portraits, Pet
Portraits, Boats, Commissions.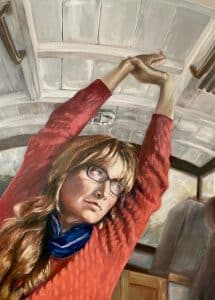 Francesca Wyllie BA Hons Fine Art, paints aboard her vintage boat moored on the River Dart in Devon and in her studio in Andalucia, Spain.
She paints portraits, landscapes, pet portraits. boats and sketches from the curious life around her. She usually paints in oils and acrylics, sometimes watercolours and also with an IPad and Pencil.
Francesca Wyllie occasionally ventures out of her den to offer painting and drawing tuition and to give talks on her art.
With over 30 years experience at creating art, she knows a thing or two and is always keen to pass on a few tips.
So, why don't you entice her out of her den by dropping her a line or by calling her on the telling bone.
She is always happy to help you with your enquiries or to answer any questions.
Contact the Wyllie Fox to:
commission a unique pet portrait
Commission a portrait
Commision a boat painting
Explore the gallery shop, where you can discover the original paintings and limited edition prints for sale.