The Story of the Wyllie Fox
Using intuition to create a unique piece of art!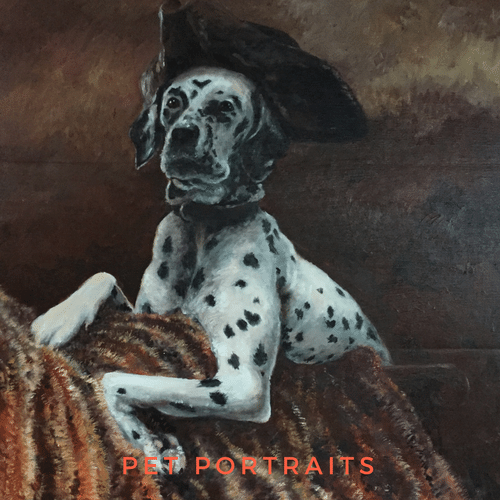 The story began with a rather naughty but lovable dalmation dog called Lois, who inspired Francesca Wyllie (also known as the Wyllie Fox), to paint a series of dog portraits in oils. Accidentally, she found herself painting in the style of Old Renaissance Masters and realised that the painting resembled a Rembrandt or Titian portrait.
Rather than painting a straight pet portrait Francesca wanted to portray the character of the dog. Lois had recently stolen a whole chicken from the kitchen and several other things mostly food related. Her haughty indifference and disobedient nature conjured up an image of a pirate. Given that Francesca had rather too much time on her hands and had broken her finger (well Lois had quite a lot to do with that too!) she decided to concentrate on painting more pet portraits in oils. With an inability to drive or even to spread butter on her toast she found thankfully, she could still hold a paint brush.
Other pet paintings followed inspired by paintings of Queen Elizabeth 1st and painting by the French Impressionist Manet. Who knows what will inspire her next…
Commissions
If you would like to immortalise your own pet in a unique oil painting, or sketch, whether it be a Poodle, Cocker Spaniel or Dachshund or Heinz 57 do get in touch with Francesca using the contact form on the commissioning a pet portrait page.
Francesca has been creating art for many many years after qualifying with a Fine Art Degree. Other examples of her paintings can be seen in the gallery pages. She loves to pass on her knowledge so do take a look at her tuition page if you are interested in 1 to 1 or group tuition in oils, acrylics, watercolours, drawing and digital painting.
Currently she paints onboard her vintage boat which is moored on the river Dart in perfect tranquillity.